INDIA – DBC ITANAGAR ACHIEVES GRADE 'A' NATIONAL ASSESSMENT AND ACCREDITATION COUNCIL (NAAC).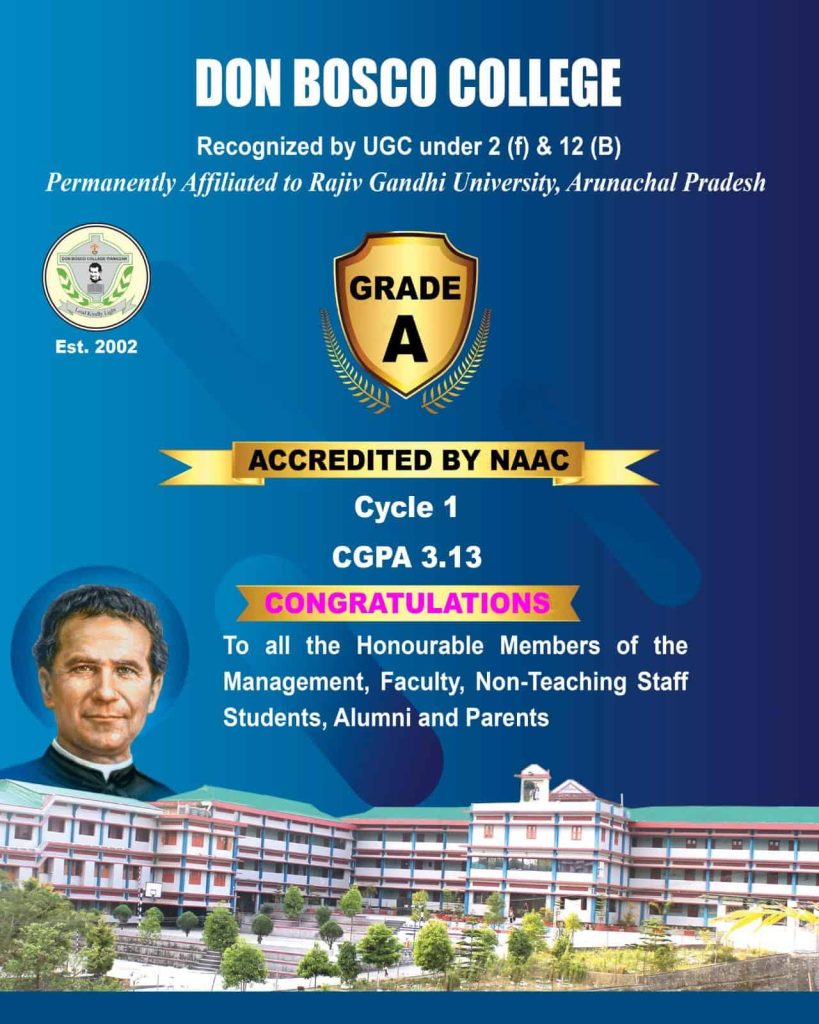 Itanagar: The Don Bosco College in Jollang has been accredited by the National Assessment and Accreditation Council (NAAC) with an A Grade in the first cycle, making it one of the first private colleges in the state of Arunachal Pradesh to achieve this feat.
The announcement was made on Thursday after the NAAC Peer Team visited the college on March 23 and 24 and submitted a detailed report of their observations.
The college earned a Cumulative Grade Point Average (CGPA) score of 3.13.
The NAAC Peer Team comprised of former Kakatiya University, Telangana vice-chancellor Dr Boda Venkat Rathnam, Mizoram University head of sociology department Dr Rabindra Kumar Mohanty, and former Annasaheb Magar Mahavidyalaya, Maharashtra principal Dr Raghunath Misal.
Don Bosco College Principal Dr Fr Jose George expressed his gratitude to the Internal Quality Assurance Cell (IQAC) coordinator Luhish Lushai, assistant coordinators Dr Tagam Dabi and Dr Ratul Mahela, the vice-principals, teaching and non-teaching staff, and the students for their hard work and dedication, which helped the college achieve the NAAC accreditation.
Fr C C Jose, the rector, also expressed his gratitude to all concerned and assured that the Don Bosco College would continue to strive for excellence and make further progress for the betterment of the state.
The NAAC is a government organization that assesses and accredits Higher Education Institutions (HEI) and is an autonomous body funded by the University Grants Commission.
Established in 2002, Don Bosco College, Itanagar (Jollang), is an educational institution of the Catholic Church, belonging to and managed by the Salesians of Don Bosco Educational Society.
The college is named after St John Bosco, a Catholic priest and a prominent educationist engaged in the welfare of youngsters.
(Don Bosco College Itanagar, Jollang) – It is indeed a matter of great pride and honour for the Institution, Don Bosco College Itanagar which has been successfully and progressively accredited with 'A' grade by the National Assessment and Accreditation council (NAAC).
The journey of 'A' grade was highlighted by Mr. Luhish Lushai, IQAC coordinator. Securing of the 'A' grade confirms that the Institution is committed to the cause of quality-culture as it has been rightly reflected in the transformation and incremental improvements made over the years. NAAC Accreditation is a stepping stone for the Institution. Furthermore, the NAAC Grade instills great confidence among all stakeholders including faculty, students, alumni and parents. While going forward, the 'A' grade will certainly open many more opportunities for the Institution to explore and excel. Indeed a proud moment for the Institute and its Stakeholders".
The celebration in the evening show the different cultural events, dances, songs, fashion parade etc. The celebration came to a felicitous end with a sumptuous dinner for all.